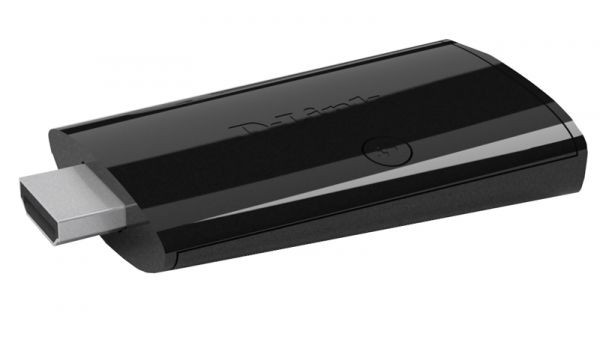 Description
The DIB-200 StreamTV Adapter is a small yet powerful device which brings your favorite high-definition media to life on your big screen. Watch your HD movie collection on your display or projector, bring the rich media content of the Internet to your TV, or listen to your music library, all without the clutter of wires.
Full HD Capabilities and More
The DIB-200 StreamTV Adapter's powerful processor is capable of decoding high-definition video up to 1080p, so you can catch every detail in rich, vibrant, crystal-clear HD on any compatible display. The DIB-200 supports the popular H.264, MPEG4, and WMV video formats, as well as the JPEG picture format, letting you show your movie collection or favorite photos on your big screen in stunning detail. The DIB-200 also supports the MP3 and WMA audio formats, so you can turn your TV into a sound system for your digital music library.
Wireless Freedom
The StreamTV Adapter utilizes high-speed wireless technology to stream your media from your device to your big screen. This frees you from the clutter of wires commonly associated with a media center, so you can keep your device with you while it is playing. Control video playback from the comfort of your sofa, or put on your favorite music and move freely around the house with your device. The tiny form factor of the StreamTV Adapter means you can slip it into your pocket and enjoy your media on any HDMI-capable display, anywhere. Use it for movie night at a friend's place, or to show your latest holiday photos at a family gathering; all you need is a display and a Wi-Fi network.
Simple Streaming Using Your DLNA Apps
All you need is your mobile device and any of the numerous apps which can stream media to DLNA devices. Use these apps to play your media collection with ease, or to play your favorite Internet media directly on your TV. Because the StreamTV Adapter streams content from your device via your wireless router, you're free to keep surfing, chatting and texting while your media is playing. Once you have started streaming media to the DIB-200, you can minimize the app and go back to using your mobile device as you normally would, meaning you can still view websites, check your e-mail, and play games while your media is playing.
Quick and Easy Setup
Configure the DIB-200 in a few simple steps using the intuitive setup interface for your mobile device. Once setup is complete, connect it to your wireless network, open an app capable of DLNA streaming, and start enjoying your content. New devices connected to your Wi-Fi network will automatically be detected by the StreamTV Adapter and will be ready to use; there's no need to pair each one of your devices individually.
General features
Device Interfaces
• IEEE 802.11/b/g/n Wireless LAN
• HDMI (Type A)
• Micro USB (for power input)
Standards
• DLNA
• IEEE 802.11b
• IEEE 802.11g
• IEEE 802.11n
• HDMI
• Wi-Fi Miracast*
Minimum Requirements
• TV, monitor, or other display with HDMI type A input
• iOS or Android mobile device**
Supported Formats***
• Video: H.264, MPEG4, WMV
• Audio: MP3, WMA
• Picture: JPEG