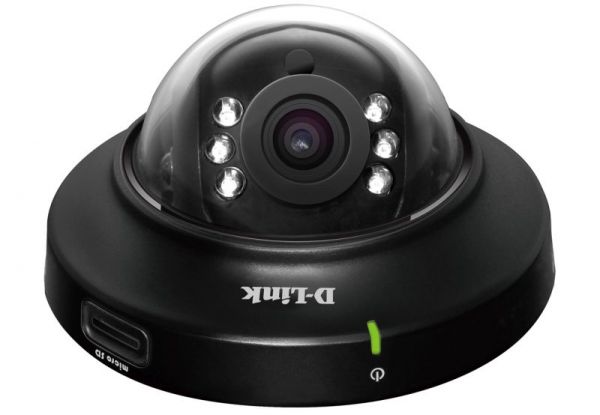 Description
The DCS-6004L HD PoE Mini Dome Network Camera is a mydlink-enabled IP surveillance camera built with a ultra small form factor and features Power over Ethernet connectivity, making it ideal for monitoring areas that are hard to reach or require discrete surveillance.
Built for Versatility
The DCS-6004L comes with a wealth of features that enhance its surveillance capabilities, making it ideal for any situation. The ultra small form factor allows you to mount the camera in areas that need to be monitored without the camera being an eyesore. The DCS-6004L is perfect for deployment into areas that lack power with its PoE feature. A built-in microphone and audio out allow for 2-way communication during an event. 
Peace Of Mind With 24/7 Monitoring of Any Environment
The DCS-6004L is a standalone surveillance camera that requires no special hardware or software, and can run independently even without a PC. Send e-mail notifications with snapshots or video clips whenever motion or sound is detected using just the DCS-6004L and an internet connection. You can customize areas of the video to monitor for motion to keep watch over entryways, and you can set volume limits to detect when a loud sound is picked up by the camera. Night time monitoring is possible with the built-in infrared LEDs which allow for nighttime viewing of up to 16 feet (5 meters), enabling round-the-clock monitoring of a home or small office.
Instant Anywhere Access with mydlink Cloud Service
The HD PoE Mini Dome Network Camera is mydlink-enabled, which means that 
you can access and configure your camera remotely, no matter where you are. With a mydlink service enabled camera, see your camera's live view through the mydlink website, or download the mydlink mobile app and view your camera directly on your smarthphone or tablet. Keep an eye on your home while you're at work, or check on the office when you're out on the road; mydlink makes it all possible.
A Complete, Expandable Surveillance Solution
The DCS-6004L is a self-sufficient surveillance solution, capable of recording snapshots and video to a MicroSD card without requiring a PC or network storage device. 
If you want to expand your surveillance options, D-ViewCam management software is also included, giving you the ability to manage up to 32 cameras with a robust set of features, including multi-camera views and automated e-mail alerts to keep you informed of suspicious or unusual activities.
General features
Camera Hardware Profile 
• 1/4" 1 megapixel progressive CMOS sensor
• 5 meter IR illumination distance
• Minimum illumination: 0 lux (with IR LED on)
• Built-in microphone and audio out
• 10x digital zoom
• Fixed length: 2.8 mm
• Aperture: F1.8 
• Angle of view:
  (H) 75.2°
  (V) 48.2°
  (D) 89.3°
• Minimum object distance: 500 mm
Image Features 
• Configurable image size, quality, frame rate, and bit rate
• Time stamp and text overlays
• Configurable privacy masks zones
• Configurable brightness, saturation, contrast, and sharpness
• Configurable motion detection windows
Video Compression 
• Simultaneous H.264/MPEG-4/MJPEG format compression
• H.264/MPEG-4 multicast streaming
• JPEG for still images
Video Resolution 
• 16:9 - 1280 x 800, 1280 x 720, 800 x 450, 640 x 360, 480 x 270, 320 x 176 up to 30 fps recording*
• 4:3 - 1024 x 768, 800 x 600, 640 x 480, 480 x 360,  320 x 240 up to 30 fps recording*
Audio Support 
• G.711: 64 kbps 
• AAC: 64 kbps
External Device Interfaces 
• 10/100 BASE-TX Fast Ethernet port with 802.3af PoE support
• microSD/SDHC card slot**
Network Protocols 
• IPv6
• IPv4
• TCP/IP
• UDP
• ICMP
• DHCP client
• NTP client (D-Link)
• DNS client
• DDNS client (D-Link)
• SMTP client
• FTP client 
• HTTP / HTTPS 
• Samba client
• PPPoE
• UPnP port forwarding
• RTP / RTSP/ RTCP
• IP filtering
• QoS
• CoS
• Multicast
• IGMP
• ONVIF compliant
Security 
• Administrator and user group protection
• Password authentication
• HTTP and RTSP authentication
System Requirements for Web Interface 
• Browsers: Internet Explorer, Firefox, Chrome
Event Management 
•  Motion/Sound detection
•  Event notification and uploading of snapshots &  video clips via e-mail or FTP
• Supports multiple SMTP and FTP servers
• Multiple event notifications
• Multiple recording methods for easy backup
Remote Management 
• Take snapshots/video clips and save to local hard drive via web browser
• Configuration interface accessible via web browser
Mobile Support 
• mydlink Lite/mydlink+ mobile app for iPhone™, iPad™, and Android™ mobile devices
D-ViewCam™ System Requirements 
• Operating System: Microsoft Windows 8/7/Vista/XP
• Web browser: Internet Explorer 7 or higher
• Protocol: Standard TCP/IP
D-ViewCam™ Software Functions 
• Remote management/control of up to 32 cameras
• Viewing of up to 32 cameras on one screen
• Supports all management functions in web interface
• Scheduled motion triggered, or manual recording options
Order info
DCS-6004L HD PoE Mini Dome Network Camera