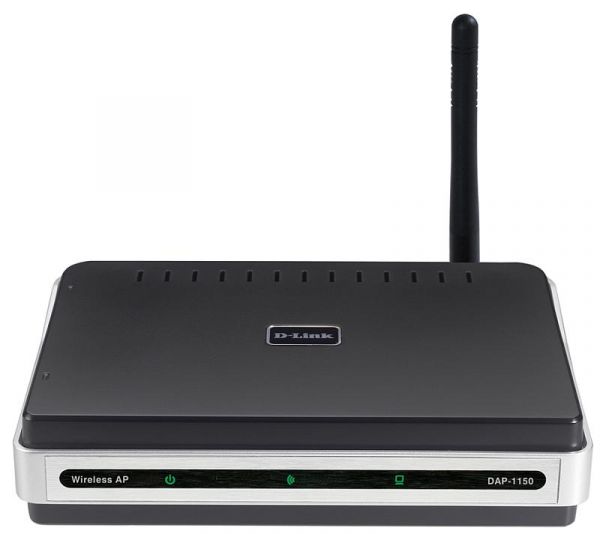 Description
CONNECT HOME USERS TO A WIRELSS NETWORK
Create a wireless network for your home using the D-link DAP-1150, Connect this 802.11g standard Wireless Access point a broadband modem and wirelessly share your internet connection. enjoy surfng the web, checking e-mail, and chatting with family and friends online.

PROTRECT WIRELESS NETWORK AND DATA
The DAP-1150 provides 64/128-bit Wep encryption and WpA/WPA2 security to protect your network and wireless data. in addition, it also provides MAC address fltering and the Disable SSiD broadcast function to limit outsiders' access to your wireless network.

FLEXIBlY CONFIGURE YOUR AP FOR DIFFERENT APPLICATIONS
The DAP-1150 can be confgured to operate as an Access point to act as a central hub for wireless users, a Wireless Client to connect to a game console, or a Repeater to extend the wireless coverage to cover "dead" spots. these fexible operations allow you to use your DAP-1150 for different purposes.

EASY TO INSTALL AND USE
With D-link Setup Wizard, you can set up your wireless network in minutes. it confgures your DAp-1150, makes it easy to add new wireless devices onto the network, and helps you create a simple wireless network for your home. A slide switch is provided on the back for users to select an operation mode. in addition, the DAP-1150 is Wi-Fi protected Setup™ (WpS) certifed, making it even easier to confgure your wireless network and enable security
General features
NETWORK STANDARDS
+ 802.11g wireless lAN
+ 802.11b wireless lAN
+ 802.3/802.3u 10BASe-t/100BASe-tX ethernet
+ ANSi/ieee 802.3 NWay auto-negotiation

DEVICE INTERFACES
+ 802.11g wireless lAN
+ 10/100BASe-tX ethernet lAN port

OPERATING FREQUENCY
+ 2.4 to 2.4835 GHz

OPERATING CHANNELS
+ FCC: 11
+ etSi: 13

RADIO & MODULATION SCHEMES
+ DQPSK, DBPSK, CCK, OFDM

OPERATION MODES
+ Access point
+ Wireless Client
+ Wireless Repeater

ANTENNA
+ 2dBi Gain detachable omni-directional antenna with Rp-SMA connector

TRANSMIT OUTPUT POWER
+ 16dBm (typical)

RECEIVE SENSITIVITY
+ For 802.11b, at 8% peR:
11Mbps: -80dBm
5.5Mbps: -84dBm
2Mbps: -87dBm
1Mbps: -88dBm
+ For 802.11g, at 10% peR:
54Mbps: -65dBm
48Mbps: -66dBm
36Mbps: -70dBm
24Mbps: -74dBm
18Mbps: -77dBm
12Mbps: -79dBm
9Mbps: -81dBm
6Mbps: -82dBm

SECURITY
+ 64/128-bit Wep data encryption
+ WpA-pSK, WpA2-pSK
+ WpA-eAp , WpA2-eAp
+ TKIP , AES
+ MAC address fltering
+ SSiD broadcast disable function

QUALITY OF SERVICE (QOS)
+ Wi-Fi Multimedia (WMM)

DEVICE MANAGEMENT
+ Web-based management through internet explorer v.6 or later, Netscape Navigator v.6 or later or other Java-enabled browser
+ WpS Support on Ap , Repeater and Wireless Client modes

DIAGNOSTIC LEDS
+ Power
+ WLAN
+ LAN
POWER INPUT
+ 5VDC, 1.2A
+ External power adapter

DIMENSIONS
+ 144 (W) x 109 (D) x 30 (H) mm
(5.67 x 4.29 x 1.18 inches)

WEIGHT
+ 220grams (0.485 lb)

OPERATING TEMPERATURE
+ 0˚ to 55˚ C (32˚ to 131˚ F)

STORAGE TEMPERATURE
+ -10˚ to 70˚ C (14˚ to 158˚ F)

OPERATING HUMIDITY
+ 10% to 90% non-condensing

STORAGE HUMIDITY
+ 5% to 95% non-condensing

CERTIFICATION
+ FCC Class B
+ Ce
+ C-tick
+ Wi-Fi

Order info
DAP-1150 802.11g Wireless Access Point for SOHO