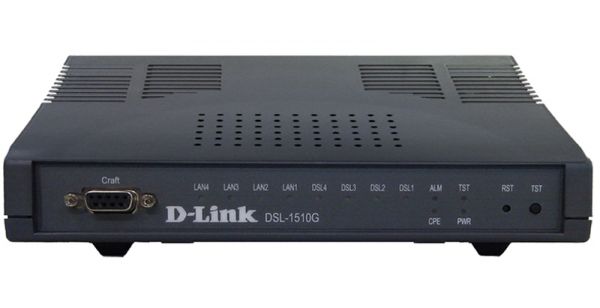 Description
DSL-1510G supports G.SHDSL.bis technology, designed to enhance the capacity of transmission media, combining Fast Ethernet channel with one, two or four G.SHDSL.bis wirelines. This device enables service providers todeliver high-value-added services, while helping to reduce the cost of deployment.
The possibility of a joint deployment of equipment from different vendors
G.SHDSL technology combines the best from SDSL and HDSL2 technologies. It is designed to use DSL for voice and data transmission, and Internet service access. Its primary standard (G.991.2) was developed by International Telecommunications Unions (ITU) Telecommunications Standards Sector, based in Geneva. With the use of widely applicable standard G.SHDSL, telecommunication and Internet service providers can reduce costs and achieve interoperability by deploying equipment from different manufacturers.
General features
Model
• DSL-1510G, 2-wire, 4 Ethernet ports
Line interface - G.SHDSL.bis
• Type: 2-wire
• Speed: n x 64kbit/s, n=3~89, n=3~213 (for extended mode)
• Standards: ITU-T G.991.2, ETSI 101 524
• Connection protocols: IEEE 802.3ah EFM 2Base-TL; TDM; DBM; HDLC
• Connector: 1 x RJ-45
• Line Coding: TC-PAM 16/32/64/128
• Impedance: 135Ohm
• ITU K.21 compliant
Ethernet interface
• Ethernet type: 10/100 BaseT
• Connector: RJ-45
• 802.3x flow control support
• Auto MDI/MDIX on all ports
• Auto-negotiation of speed and duplex mode
• Supports full-duplex and full-duplex modes
Clock source function
• Internal
• Resulting from the DSL line
Ethernet level 2 functions
• Supports 802.1d transparent bridge
• Supports MAC-filtering
• Bandwidth control on each port (Step=64K, up to 100M)
• Up to 2K (2048) learned MAC-addresses
• Supports Ethernet packet size up to 1518/1522/1536 bytes
• 802.3x flow control support
• Supports 802.1q VLAN tagging
• Supports 802.1p QoS
Management
• Setting up a CID console (debug only), Telnet, web UI
• Supports web browsers: IE, Firefox, Chrome
• Console connector: DB9 (RS232C)
• Supports remote management
• Local and remote loop diagnostics
• Performance monitoring
• TST button to verify the working capacity of DSL connection
• Reset button to restore the default settings
Indicators
• PWR, TST, ALM, CPE, DSL 1~4, LAN 1~4
Order info
DSL-1510G G.SHDSL termination unit