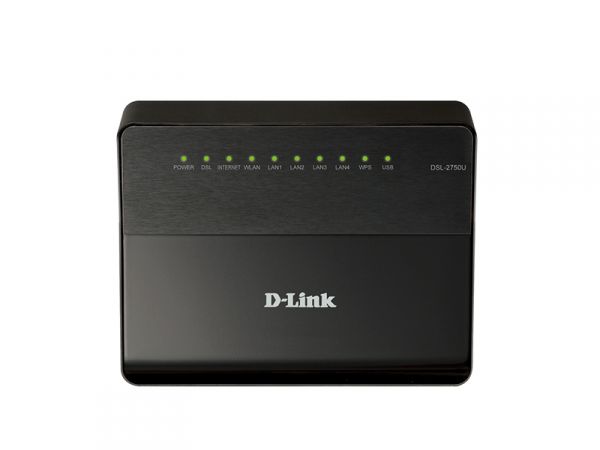 DSL-2750U/RA/U2
EOL EOS
Wireless ADSL2+ Router with 3G/LTE/Ethernet WAN Support and USB Port
Where to buy
Description
USB Port
The router is equipped with a USB port for connecting a USB modem, which can be used to establish connection to the Internet. In addition, to the USB port of the router you can connect a USB storage device, which will be used as a network drive, or a printer.
ADSL Port and 4-port Switch, Ethernet WAN Support
The router is equipped with an ADSL port to connect to an ADSL line. The built-in 4-port switch enables you to connect Ethernet-enabled computers, game consoles, and other devices to your network. In addition, any Ethernet port of the device can be used to connect to a private Ethernet line.
Wireless Interface
You are able to quickly create a wireless network at home or in your office, which lets your relatives or employees connect to your wireless network virtually anywhere (within the operational range of your wireless network). The router can operate as a base station for connecting wireless devices of the standards 802.11b, 802.11g, and 802.11n.
The router supports multiple functions for the wireless interface: several security standards (WEP, WPA/WPA2), MAC address filtering, and the WPS function.
In addition, the device is equipped with a button for switching the Wi-Fi network off/on. If needed, for example, when you leave home, you can easily switch the router's WLAN by pressing the button, and devices connected to the LAN ports of the router will stay online.
Security
The wireless router DSL-2750Uincludes a built-in firewall. The advanced security functions minimize threats of hacker attacks, prevent unwanted intrusions to your network, and block access to unwanted websites for users of your LAN.
Easy configuration and update
You can configure the settings of the wireless router DSL-2750Uvia the user-friendly web-based interface (the interface is available in several languages).
Now you can simply update the firmware: the router itself finds approved firmware on D-Link update server and notifies when ready to install it.
General features
Hardware

Interfaces

• RJ-11 ADSL port

• 4 10/100BASE-TX LAN ports

• USB 2.0 port

LEDs

• POWER

• DSL

• INTERNET

• WLAN

• 4 LAN LEDs

• WPS

• USB

Buttons

• ON/OFF button to power on/power off

• RESET button to restore factory default settings

• WPS/WLAN button to set up secure wireless connection and enable/disable wireless network

Antenna

• Two internal omnidirectional antennas (2dBi gain)

MIMO

• 2 x 2

Power connector

• Power input connector (DC)

DSL Parameters

ADSL Standards

• ADSL: Multi-mode, ANSI T1.413 Issue 2, ITU-T G.992.1 (G.dmt) Annex A, ITU-T G.992.2 (G.lite) Annex A, ITU-T G.994.1 (G.hs)

• ADSL2: ITU-T G.992.3 (G.dmt.bis) Annex A/L/M, ITU-T G.992.4 (G.lite.bis) Annex A

• ADSL2+: ITU-T G.992.5 Annex A/L/M

ATM/PPP Protocols

• Bridged and routed Ethernet encapsulation

• VC-based or LLC-based multiplexing

• ATM Forum UNI3.1/4.0 PVC (up to 8 PVCs)

• ATM Adaptation Layer Type 5 (AAL5)

• ITU-T I.610 OAM F4/F5 loopback

• ATM QoS

• PPP over ATM (RFC 2364)

• PPP over Ethernet (PPPoE)

• Keep-alive for PPP connections

Software

WAN connection types

• LTE

• 3G

• PPPoA

• PPPoE

• IPv6 PPPoE

• PPPoE Dual Stack

• IPoA

• Static IP / Dynamic IP

• Static IPv6 / Dynamic IPv6

• Bridge

Network functions

• DHCP server/relay

• DHCPv6 server (Stateful/Stateless), IPv6 prefix delegation

• DNS relay

• Support of DNSv6 AAAA records

• Dynamic DNS

• Static IP routing

• Static IPv6 routing

• IGMP Proxy

• IGMP snooping

• RIP

• Support of UPnP IGD

• Support of VLAN

• WAN ping respond

• Support of SIP ALG

• Support of RTSP

Firewall functions

• Network Address Translation (NAT)

• Stateful Packet Inspection (SPI)

• IP filter

• IPv6 filter

• MAC filter

• URL filter

• DMZ

• Prevention of ARP and DDoS attacks

• Virtual servers

• Built-in Yandex.DNS web content filtering service

VPN

• PPTP/PPPoE pass-through

QoS

• Interface grouping

• VLAN priority (802.1p)

• Traffic classification/prioritization for Ethernet WAN (upstream traffic only)

USB interface functions

• USB modem

- Auto connection to available type of supported network (4G/3G/2G)1

- Enabling/disabling PIN code check, changing PIN code2

• USB storage

- File browser

- Print server

- Access to storage via accounts

- Built-in Samba server

- Built-in FTP server

- Built-in DLNA server

- Built-in Transmission torrent client; uploading/downloading files from/to USB storage

Management

• Local and remote access to settings through TELNET/WEB (HTTP)

• Multilingual web-based interface for configuration and management

• Firmware update via web-based interface

• Automatic notification on new firmware version

• Saving/restoring configuration to/from file

• Support of remote logging

• Automatic synchronization of system time with NTP server and manual time/date setup

• Ping function

• TR-069 client

Wireless Module Parameters

Standards

• IEEE 802.11b/g/n

Frequency range

• 2400 ~ 2483.5MHz

Wireless connection security

• WEP

• WPA/WPA2 (Personal)

• МАС filter

• WPS (PBC/PIN)

Advanced functions

• Managing connected stations

• Advanced settings

Wireless connection rate

• IEEE 802.11b: 1, 2, 5.5, and 11Mbps

• IEEE 802.11g: 6, 9, 12, 18, 24, 36, 48, and 54Mbps

• IEEE 802.11n: from 6.5 to 300Mbps (from MCS0 to MCS15)

Transmitter output power

The maximum value of the transmitter output power depends upon the radio frequency regulations applied in your country

• 802.11b

16.5 ~ 18.5dBm

• 802.11g

13.5 ~ 16.5dBm

• 802.11n

13.5 ~ 16.5dBm

Modulation schemes

• 802.11b: CCK (11, 5.5Mbps), DQPSK (2Mbps), DBPSK (1Mbps), DSSS

• 802.11g: PSK/CCK, DBPSK, DQPSK, OFDM, BPSK, QPSK, 16QAM, 64QAM

• 802.11n: PSK/CCK, DBPSK, DQPSK, OFDM, etc.

Physical Parameters

Dimensions

• 160 x 120 x 59 mm (6.3 x 4.7 x 2.3 in)

Weight

• 240 g (0.53 lb)

Operating Environment

Power

• Output: 12V DC, 1A

Temperature

• Operating: from 0 to 40 °C

• Storage: from -20 to 70 °C

Humidity

• From 5% to 95% (non-condensing)

Delivery Package

• Router DSL-2750U

• Power adapter DC 12V/1A

• RJ-11 telephone cable

• Ethernet cable (CAT 5E)

• Splitter

• "Quick Installation Guide" (brochure)

Supported USB modems3

GSM

• Alcatel X500

• D-Link DWM-152C1

• D-Link DWM-156A6

• D-Link DWM-156A7

• D-Link DWM-156C1

• D-Link DWM-157B1

• D-Link DWM-157B1 (Velcom)

• D-Link DWM-158D1

• Huawei E150

• Huawei E1550

• Huawei E156G

• Huawei E160G

• Huawei E169G

• Huawei E171

• Huawei E173 (Megafon)

• Huawei E220

• Huawei E352 (Megafon)

• Huawei E367 (3G mode)

• Huawei E392 (3G mode)

• ZTE MF112

• ZTE MF192

• ZTE MF626

• ZTE MF627

• ZTE MF652

• ZTE MF667

• ZTE MF668

• ZTE MF752

CDMA

• Airplus MCD-650

• Airplus MCD-800

• AnyDATA ADU-300A

• AnyDATA ADU-500A

• AnyDATA ADU-510A

• Huawei EC306

• ZTE AC5710

• ZTE AC5730

LTE

• Huawei E3131

• Huawei E3272

• Huawei E367

• Huawei E392

• Megafon M100-1

• Megafon M100-3

• Megafon M100-4

• Megafon M150-1

• MTS 824F

• Yota LU-150

• Yota WLTUBA-107

• ZTE MF823

• ZTE MF827
1For LTE and GSM USB modems.
2For GSM USB modems only.
3The manufacturer does not guarantee proper operation of the router with every modification of the firmware of USB modems.
Order info
DSL-2750U/RA/U2 Wireless ADSL2+ Router with 3G/LTE/Ethernet WAN Support and USB Port