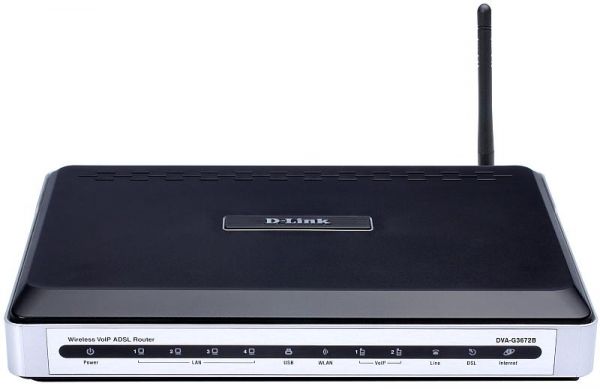 DVA-G3672B
EOL EOS
WIRELESS G VoIP ADSL2+ MODEM ROUTER
Where to buy
Description
p align="justify">
ERYTHING YOU NEED FOR A HOME
Get everything from the D-Link DVA-G3672B Wireless G VoIP ADSL2+ Modem Router. This all encompassing device includes an integrated high-speed ADSL2/2+ modem, 2 VoIP phone connections, 802.11g wireless interface, a USB print server and a 4-port Ethernet switch. This router provides all the functions that your home needs to establish a fast, secure Internet connection, make and receive Internet calls, and wirelessly share the Internet link and USB printer with your family members.
FAST ADSL SPEED FOR CLEAR INTERNET PHONE
The DVA-G3672B provides ADSL2+ speeds of up to 24Mbps downstream and 1Mbps upstream, suitable for Internet phone calls. It combines the industry's latest Voice over IP technology with advanced communication features, and is compatible with industry-wise phone services. With two FSX phone ports and a FXO lifeline, this router can connect to two ordinary phone sets for two simultaneous phone calls, and relay phone calls to PSTN automatically in case of a power outage, so your phone line will always be available.
SECURE WIRED AND WIRELESS CONNECTION
The DVA-G3672B provides an integrated 802.11g WLAN supporting wireless speeds of up to 54Mbps, four Ethernet ports to connect to four computers through the network cables, and a USB port to hook up a printer and share it among the workgroup. Using a WLAN ON/OFF switch button, users can turn OFF the wireless interface when they don't need it to save power and to eliminate unnecessary transmission of RF signals in the air. For wireless security, the router provides WEP data encryption and WPA/WPA2, Stateful Packet Inspection (SPI) frewall protection, MAC/IP/Port access fltering access, and day/time parental control. Priority queues and packet prioritization enable your home to experience smooth VoIP and streaming media without concern of traffc congestion.
General features
Device Interfaces
+ 1 RJ-11 ADSL port (to phone line)
+ 2 RJ-11 FXS ports (to analog phones)
+ 1 RJ-11 PSTN port (lifeline to phone line)
+ 4 RJ-45 10/100BASE-TX Ethernet LAN ports with auto MDI/MDIX (to computers)
+ 802.11g WLAN (AP wireless connection to computers)
+ 1 USB 2.0 Type B port (to printer)
+ Factory reset button
+ WLAN ON/OFF switch
+ Power ON/OFF switch

ADSL
Standards
+ ADSL standards: ANSI T1.413 Issue 2, ITU G.992.1 (G.dmt) Annex A, ITU G.992.2 (G.lite) Annex A
+ ADSL2 standards: ITU G.992.3 (G.dmt.bis) Annex A, ITU G.992.4 (G.lite.bis) Annex A
+ ADSL2+ standards: ITU G.992.5 Annex A
+ Auto-handshake: ITU G.994.1 (G.hs)

Data Rates
+ G.dmt: 8Mbps downstream, 832Kbps upstream
+ G.lite: 1.5Mbps downstream, 512Kbps upstream
+ ADSL2: 12Mbps downstream, 1Mbps upstream
+ ADSL2+: 24Mbps downstream, 1Mbps upstream

ATM & PPP Protocols
+ ATM Adaptation Layer Type 5 (AAL5)
+ Bridged or routed Ethernet encapsulation
+ VC and LLC based multiplexing
+ PPP over Ethernet (PPPoE)
+ PPP over ATM (RFC 2364)
+ Classical IP over ATM (RFC 1577)
+ OAM F4/F5

VoIP
VoIP Protocol Support
SIP (RFC 3261)

Telephone Function Support
+ DTMF dial tone signal support
+ Caller ID support

Audio Code
+ G.711u-law/A-law
+ G.723.1
+ G.726
+ G.729A/B

Echo Cancellation
G.168

Fax Function Support
Transparent fax (G.711)

VoIP NAT Traversal
SIP

WIRELESS LAN
Standards
+ 802.11g
+ 802.11b

Data Rates
(With automatic fallback)
+ For 802.11g:
54, 48, 36, 24, 18, 12, 9 and 6Mbps
+ For 802.11b:
11, 5.5, 2 and 1Mbps

Wireless Frequency Range
2.4GHz to 2.4835GHz

Antenna
2dBi Gain detachable diversity dipole antenna with reverse SMA connector

Transmit Output Power
16 to 18 dBm

Transmission Technology
DSSS

Data Modulation Type
DBPSK, DQPSK, CCK, PBCC and OFDM (BPSK/QPSK/16-QAM/ 64-QAM)

Security
+ ACL MAC address fltering
+ ESS-ID
+ 64-, 128-bit WEP data encryption
+ MAC address fltering
+ WPA EAP
+ WPA PSK

ROUTER
Network Protocols & Features
+ NAT/NAPT (RFC 1631)
+ RIP v1 (RFC 1058)
+ RIP v2 (RFC 1389)
+ Static Routing
+ DNS
+ TCP/UDP
+ ARP/RARP (RFC 826)
+ ICMP (RFC 791)
+ DHCP Server/Client (RFC 2131)
+ IP Multicast - IGMP Proxy/Snooping
+ UPnP Compliant
+ Virtual Server/Port Forwarding
+ DMZ
+ SNTP/NTP

Firewall/Access Security
+ Built-in NAT frewall
+ Stateful Packet Inspection (SPI)
+ DoS attacks prevention
+ Packet fltering based on port, source IP address, destination IP address, MAC address (ICMP/TCP/UDP)

Virtual Private Network (VPN)
PPTP/L2TP/IPSec pass-through

QoS
+ ATM QoS
+ PVC/VLAN port mapping QoS for 4

LAN ports
+ Priority queue (3 queues)
+ Packets classifcation (IP/MAC/Port and physical port)
+ IP TOS

Confguration/Management
+ Quick Installation Wizard
+ Web-based GUI for remote/local management
+ Firmware upgrade, confguration data upload/download via Web-based

GUI
+ Telnet server for remote/local management
+ Syslog monitoring
+ SN MP v.1, v.2c support with built-in

MIB-I & MIB-II (RFC 1213)
+ TR-069

Security/Bandwidth Management
+ IGMP Snooping
+ PVC/VLAN port mapping

Diagnostic LEDs
+ Power
+ LAN 1 to 4
+ USB
+ WLAN
+ VoIP 1 and 2
+ Line
+ DSL
+ Internet

Order info
DVA-G3672B Wireless ADSL Annex A Router with VoIP Gateway