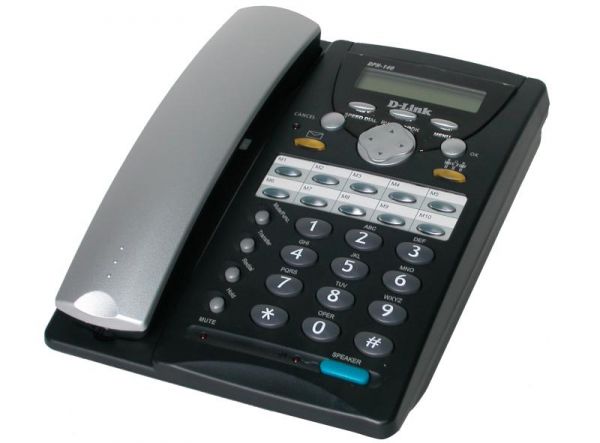 Description
Long-distance Phone Charge Saving
With this Internet telephone, expensive long-distance and international phone calls over the ordinary telephone can be avoided altogether. Y ou make and receive voice calls over the same line that you use to connect to the Internet, and pay the same Internet connection charge, plus a service charge to your Service Provider.
Simple Operation
The DPH-140S is compatible with most IP telephony service providers. It operates just like any ordinary telephone. All destination numbers must be registered with your Internet Telephony Service Provider or Proxy Server . You dial your server's code, then your destination number; the Internet Telephony Service Provider or Proxy Server will map your number with the destination.
Broadband Connection
The DPH-140S has a built-in Ethernet interface to connect to a DSL or cable modem, or a router supporting DSL or cable modem connection. Once connected, you are logged on to the Internet and are ready to make and receive calls anytime.
Connection to IP Network
The DPH-140S can also be used with LANs with Ethernet and IP protocol support. V oice is transmitted on the same line with data, and telephone charges are eliminated altogether.

Guaranteed Voice Quality
The DPH-140S incorporates QoS functions to deliver clear, high-quality voice communication in a variety of network conditions. With QoS, voice packets get a higher priority over data packets on the network packet stream. Other capabilities include acoustic echo cancellation, voice activity detection/comfort noise generation (when there is a prolonged silence), and adaptive jitter buffer.
Simultaneous Voice/Data Communication
Voice and data travels at the same time on the same network line. The DPH-140S provides an extra RJ-45 connector that connects to your PC's Ethernet interface. This allows you to talk on the IP Telephone while browsing web sites, send e-mail, transfer files and do other network tasks.
Full-feature Phone
The DPH-140S is a speakerphone. It has a large LCD to display dial-out and call-in numbers. It also has redial, mute, transfer, voice mail, 3-way conference, call waiting, call forwarding and hold functions, plus a menu key, an address book and 10 memory function keys.