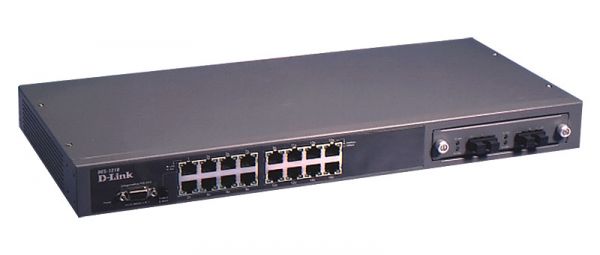 DES-1218R
EOL EOS
10/100Mbps Smart Switch With Gigabit Options
Where to buy
Description
16 or 24 10/100Mbps Ports
Each switch comes with 16 or 24 10/100Mbps ports designed for flexible connection and Ethernet/Fast Ethernet Integration. These intelligent ports detect the network speed and auto-negotiate between 10Base-T and 100Base-TX, as well as half- and full-duplex modes. The 10/100Mbps ports are ideal for segmenting the network into small, connected sub networks for superior performance, enabling the most demanding multi-media and imaging applications over the network.

Optional Gigabit Ports
These ports come as optional modules and can be installed in the open slot on the front of the switches. Available for selection are 1000Base-SX, 1000Base-LX, 1000Base-T and GBIC ports (for flexible fibre connections). The Gigabit ports are capable of handling very large amounts of data in a secure
topology linking to a backbone or high-power servers.

High-Bandwidth Port Trunking
Multiple ports can be combined into a high-bandwidth, full-duplex trunk for switch-to-switch or switch-to-server connection. Port trunking gives users the high-speed load-balancing connection.

VLAN for Performance and Security
The switches support multiple port-based VLANs to extend the broadcast domain, segment network traffic and improve performance and manageability. This allows adds, moves and changes to be easily carried out. VLANs also provides security by limiting broadcast domains, traffic in different segments and subnets can be separated for maximum throughput and secure networking.

Workgroup Plug-and-Play
With 16 or 24 plug-and-play ports, the switch is a perfect choice for workgroups to upgrade performance in a client/server environment. The ports can be connected to servers in full-duplex or to hubs in half-duplex.
General features
Standards
• IEEE 802.3 10Base-T Standard
• IEEE 802.3u 100Base-TX Standard
• IEEE 802.3z 1000Base-SX Standard
• IEEE 802.3ab 1000Base-T Standard
• ANSI/IEEE 802.3 NWay Auto-negotiation

Protocol
• IEEE 802.3 Ethernet CSMA/CD
• IEEE 802.3u Fast Ethernet CSMA/CD
• IEEE 802.3z Gigabit Ethernet CSMA/CD
• IEEE 802.3ab Gigabit Ethernet CSMA/CD
• IEEE 802.3x Flow Control
• IEEE 802.1d Spanning Tree Protocol
• IEEE 802.1p Traffic Priority Queue

Topology
Star

Network Cables
• 100-ohm Category 3,4,5 (for 10Base-T) and Cat 5 (for 100Base-TX) Unshielded Twisted Pair cable
• EIA/TIA-568 100-ohm Shielded Twisted Pair cable (for 100Base-TX and 1000Base-T)
• 62.5 micron Multimode Fibre Cable with SC or MT-RJ connector (1000Base-SX, 275m)
• 50 micron Multimode Fibre Cable with SC or MT-RJ connector (1000Base-SX, 550m)
• 100-ohm Category 5 Enhanced (for 1000Base-T) Unshielded Twisted Pair cable

Transmission Method
Store-and-forward

Filtering Address Table
17K entries per device

Packet Filtering/Forwarding Rates
• Ethernet: 14,880 pps per port
• Fast Ethernet: 148,800 pps per port
• Gigabit Ethernet: 1,488,100 pps per port

Backplane
6.7Gbps

RAM Buffer
• 2MB RAM Buffer per 8 10/100Mbps port
• 2MB RAM Buffer per 1000Mbps port

Console Port
DB-9 RS-232 DCE Console Port
AC Input
- 100—240 VAC, 50/60 Hz
- Internal Universal Power Supply

Power Consumption
• DES-1218R: 21.0 watts (max)
• DES-1226R: 26.0 watts (max)

Operating Temperature
0 to 50 C

Storage Temperature
-25 to 55 C

Humidity
5% to 95% non-condensing

Dimensions
441 x 207 x 44 mm

Weight
• DES-1218 : 2,600 grams
• DES-1226 : 2,700 grams

Emission (EMI)
• FCC Class A
• CE Class A
• VCCI Class A
• C-Tick
• BSMI Class A

Safety
• UL/CUL (UL 1950/CSA950)
• TUV/GS (En60950)
Order info
Ethernet/Fast Ethernet Switches
DES-1218R 16 10/100Mbps ports
DES-1226R 24 10/100Mbps ports

Optional Modules
DES-132G 2-Port 1000Base-SX Module Fiber (SC connectors) Gigabit Ethernet
DES-132T 2-Port 1000Base-T Module Copper Gigabit Ethernet