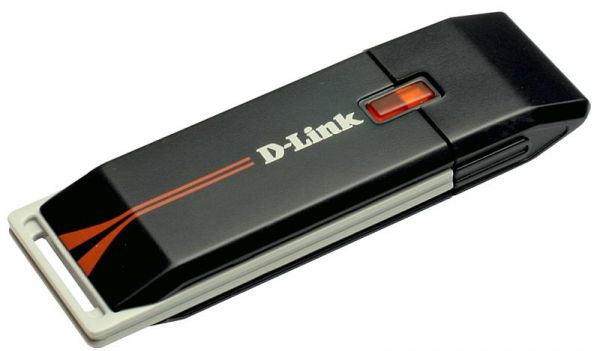 Description
BASIC WIRELESS CONNECTIVITY
Connect to your wireless network from your desktop or notebook PC using the DWA-110 Wireless G USB Adapter and browse the web, check e-mail, and chat with friends and family online. The Wireless G USB Adapter offers simple network connectivity without the hassle of running a network cable.

BASIC SECURITY PROTECTION
To protect your data and privacy, the Wireless G USB Adapter supports WEP and WPA encryption for connecting to a secure wireless network.

COMPATIBILITY ASSURANCE
The Wireless G USB Adapter is based on the 802.11g standard and is backwards compatible with 802.11b, ensuring compatibility with a wide range of wireless routers and networks.

EASY TO INSTALL & CONNECT
D-Link's Quick Setup Wizard provides easy setup for this USB adapter. The addition of the Wi-Fi Protected Setup (WPS) function provides advanced security features that remain simple enough for the average user to confgure correctly. This function allows for devices to undergo an easy one-time click-button confguration for establishing connection with an access point or wireless router without the need of manually setting up complex encryption codes
General features
SYSTEM REQUIREMENTS
+ Windows 98SE, ME, XP SP2, 2000 SP4 or Vista
+ CD-ROM drive
+ 20MB hard disk space
+ Available USB port

STANDARDS
+ IEEE 802.11g
+ IEEE 802.11b
+ USB 2.0

FREQUENCY RANGE
+ 2412 to 2462MHz (North America)
+ 2412 to 2472MHz (General Europe)

EMISSION SCHEMES
+ DSSS, OFDM

DATA MODULATION SCHEMES
DBPSK, DQPSK, DSSS and CCK
(BPSK/QPSK/16-QAM/64-QAM/OFDM)

DATA RATES 1
+ 802.11g: 6/9/12/18/24/36/48/54Mbps
+ 802.11b: 1/2/5.5/11Mbps

ANTENNA
+ Integrated Antenna

SECURITY
+ 64/128-bit WEP data encryption
+ Wi-Fi Protected Access (WPA/WPA2-PSK, WPA/WPA2-EAP)
+ 802.1x
Order info
DWA-110 802.11g Wireless USB Dongle Adapter