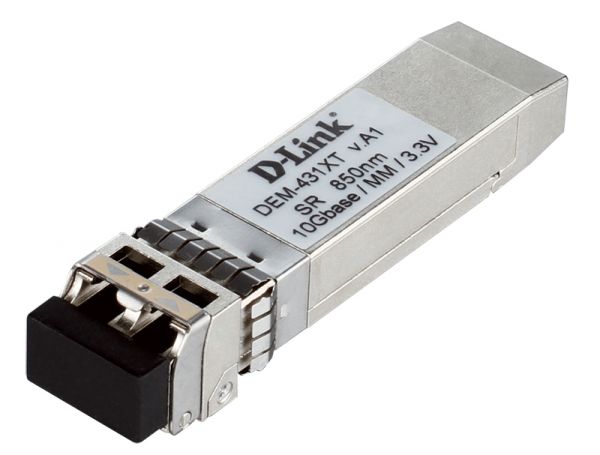 DEM-431XT
EOL EOS
SFP-Transceiver 1-Port 10GBASE-SR (without DDM) for multimode fiber optic cable, power supply 3.3 V (up to 300m)
Nereden Alınır
Tanımlama
Series 10G SFP + Module D-Link - it transceivers, hot swappable, which are installed in the ports of SFP + switches and provide job Ethernet networks at 10 Gb / s.
Transceivers Series 10G SFP + Module D-Link offers users extensive connectivity to networks of 10-Gigabit Ethernet, and are designed for data center space to accommodate the switching equipment, as well as problem solving providers of telecommunications services.
Superior format Small Form-factor Pluggable
The transceivers use an improved format Small Form-factor Pluggable (SFP +).
Form factor SFP + less than other form factors, such as Xenpak, X2 and 10G XFP, and provides a low cost, low power dissipation and high port density.
The transceivers provide a signal gain as necessary to transfer data from the port to the network cable, and vice versa, a port for receiving data from the network cable.
Hot Plug
All D-Link transceivers support hot-plug capability.
Connect the transceiver to a powered device will not cause any problems.
This allows you to connect or disconnect the transceiver without disrupting the rest of the network.
Speed ​​10 Gb / s
The transceivers are designed to work in networks of 10-Gigabit Ethernet, which allows for very fast data transfers.
A ten-fold increase compared with 1 Gbit / s allows the switch to faster and in greater volume to handle data streams.
Digital diagnostics DDM
Some of 10G SFP + transceivers have one tracking function of the critical parameters in real time (DDM), including input and output power, temperature, and voltage.
This is useful for monitoring the state of the fiber-optic line, and early detection of problems.
Bidirectional (WDM) technology 2
Bidirectional (WDM) technology enables the reception and transmission of data over a single fiber using two different wavelengths.
This helps to save additional cost of deploying fiber optic cables, and also provides a more flexible allocation of bandwidth.
Only 1 DEM-431XT-DD, DEM-432XT-DD, DEM-433XT-DD and the DEM-435XT-DD.
2 Models DEM-436XT-BXD and DEM-436-BXU.
Genel Özellikler
Fiziksel Özellikler
Compliance with standards
Standard Fibre Channel FC-PI
Support for fiber optic cable
• 62,5 m, 160 MHz-km: 26 m
• 62,5 m, OM1 200 MHz-km: 33 meters
• 50 micron, 400 MHz-km: 66 m
• 50 micron, OM2 500 MHz-km: 82 meters
• 50 micron, OM3 2000 MHz-km: 300 m
Multimode optical 50/125 or 62.5 mm / 125 mm

Fiziksel Özellikler 
Power
Max. input current
Min. power budget
Heat release
MTBF (Hours)
DDM (Digital Diagnostics)
• Compatible with SFF8432