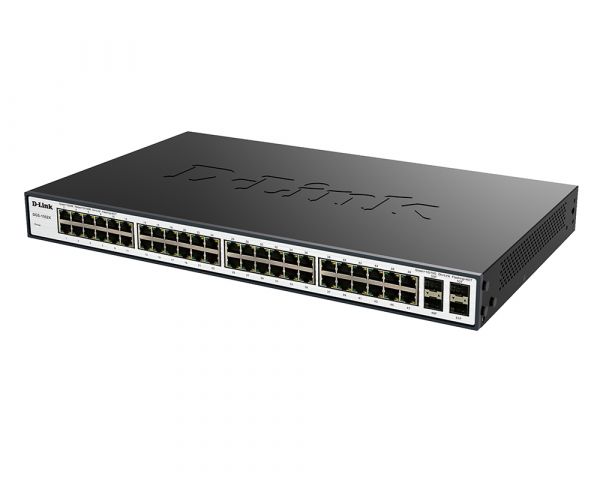 Tanımlama
The DGS-1052X Unmanaged Switch includes high bandwidth connections, plug-and-play installation, and support for a variety of media types. A fanless design, Gigabit access speeds, and energy efficiency features make the DGS-1052X suitable for office environments, while SFP+ connections, fiber support, and Direct Attach Cable (DAC) compatibility make the DGS-1052X equally suited to enterprise deployments.
High Speed Connectivity
With up to 10 Gbps network connectivity, the DGS-1052X is ready to handle your most bandwidth intensive applications. Gigabit access ports ensure that clients can connect at the maximum possible speed, and 10 Gbps uplinks remove network bottlenecks. With support for fiber and DAC connections, the DGS-1052X is ready to meet any future bandwidth requirements.
Easy Setup
The DGS-1052X is plug-and-play, and requires no configuration to set up and use. Support for auto MDI/MDIX removes the need for crossover cables, so expanding your existing network is easy and straightforward. Auto-negotiation automatically detects the link speed and duplex of a device, and adjusts the port settings for maximum compatibility and performance.
Genel Özellikler
Number of Ports
• 48 x 10/100/1000 Mbps ports
• 4 x 10 Gbps SFP+ ports
Standards
• IEEE 802.3
• IEEE 802.3i 10BASE-T Ethernet
• IIEEE 802.3u 100BASE-TX Fast Ethernet
• IEEE 802.3ab 1000BASE-T Gigabit Ethernet
• IEEE 802.3x Flow Control
• Back Pressure for Half-Duplex mode
• Head-of-line blocking prevention
• Manual/auto MDI/MDIX configuration
• Auto-Negotiation for each port
• IEEE 802.3ae
• IEEE 802.3aq
• IEEE 802.3z
• IEEE 802.3ah
• IEEE 802.1az Energy Efficient Ethernet
Switching Capacity
• 168 Gbps switching fabric
Transmission Method
• Store-and-forward
MAC Address Table
• 16K entries
Packet Buffer Memory
• 12 Mbits
Diagnostic LEDs
• Per Unit: Power
• Per Port: Activity/Link/Speed
Dimensions
• 440 x 260 x 44 mm
Power Input
• Input: 100 to 240 V AC, 50/60 Hz
Power Consumption
• Maximum: 45 W
MTBF
• 300,000 hours
Temperature
• Operating: 0 to 40 ̊C
• Storage: -20 to 70 ̊C
Humidity
• Operating: 10% to 90% RH, non-condensing
• Storage: 5% to 90% RH, non-condensing
EMI
• CCC
• RoHS
Sipariş Bilgisi
DGS-1052X Unmanaged Gigabit Ethernet Switch