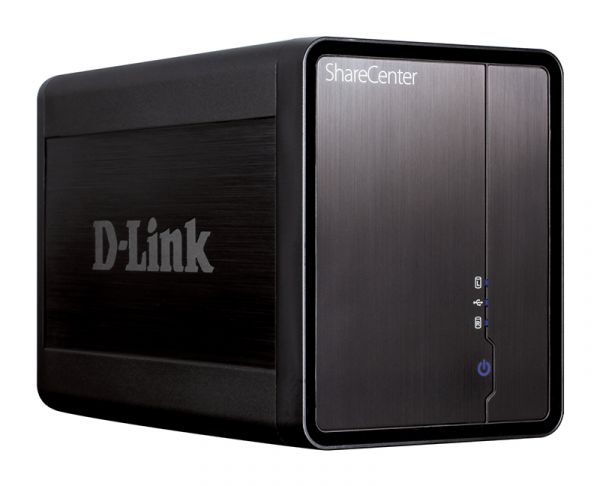 DNS-325
EOL EOS
Network Storage ShareCenter Shadow 2-Bay Hard Drive
Nereden Alınır
Tanımlama
Secure access to your shared folders locally or via the Internet
Using a network disk drive ShareCenter ™ Shadow c internal drives SATA * lets you share documents, files, media files, such as music, photos and videos with other users on a home or office network. Thanks to the built-in FTP-server and file-web-server is also possible to remotely access files over the Internet. DNS-325 provides data protection, providing access to files on the local network or the Internet to certain users or groups with read or read / write. The device is ideal for office workers with different access rights or restrictions in the home for children's access to information. ShareCenter Shadow also supports Time Machine, which allows Apple ® users to easily backup any MAC computers running OS X (10.5 or higher).
Built-in DLNA media server for streaming media content
Create a backup of media files on the NAS ShareCenter Shadow, ensuring the preservation of data, and take advantage of built-in media server, UPnP AV. Media Server provides streaming content to compatible media players, such as D-Link Boxee Box, PlayStation ® 3, Microsoft ® Xbox 360 ™, as well as a series of products D-Link MediaLounge. **
The increase in functionality when using the plug-ins
Plug-ins extend the functionality of NAS and allow you to make more action with the device. P2P applications provide access to unlimited collection of free content. Meanwhile, SqueezeCenter, Audio Streamer and AjaXplorer can be used to save streaming music collection on the NAS over the Internet. Plugins galleries and blogs can showcase their photos or recordings. In the future, an even greater number of available plug-ins.
Connect USB printers, storage and uninterruptible power supply
connecting a USB printer to the USB 2.0 port you can get to share it within the network. You can also connect an external hard drive or flash drive and access them sharing over the network. Convenient USB button allows you to immediately copy data from a USB flash disk on the NAS. In addition, ShareCenter supports uninterruptible power supply, controlled via USB, to save data when the power fails.
Performance, security and flexibility
are 4 different modes of hard disk drives (Standard, JBOD, RAID 0, RAID 1), allowing users to select a suitable configuration.When Standard mode creates two separate hard disks available. JBOD combines both drives into one for maximum volume.RAID 0 combines two drives in a stratified drive for high performance using a compound Gigabit Ethernet. With RAID 1, the contents of one hard drive is duplicated on the other, providing maximum reliability. If one drive fails, the other continues to work as a disc out of service, will not be replaced. Then, a new hard drive to re-duplicated, allowing DNS-325 to return to full protection.
* SATA drives are not included and must be purchased separately.
** D-Link can not guarantee full compatibility or proper playback with all codecs. Playback capability depends on the codec media player supported UPnP AV.
Genel Özellikler
Fiziksel Özellikler
Standards:
IEEE 802.3
IEEE 802.3u
IEEE 802.3ab
TCP / IP
CIFS / SMB
NFS
AFP
DHCP client
DDNS
NTP
FTP over SSL / TLS, FXP
HTTP / HTTPS
LLT D
PnP-X
UPnP AV
USB 2.0
Bonjour
WebDAV
Indicators:
Ports:
1 10/100/1000 Gigabit Ethernet port
1 USB 2.0 port
Board
Supports the following types of hard drives 1 :
3.5-inch internal SATA I / II drive (maximum capacity of 2 TB per disk) 2
Disk Management:
Four different hard drive configurations: RAID 0, RAID 1, JBOD, Standard
RAID migration from Non-RAID to RAID 1
Hard disk formatting: EXT3
Disk Checking
SMART
Downloaded file management:
The download via HTTP / FTP schedule
P2P (Peer to Peer)
Event Log Management:
Users Event Log Management
Group Event Management magazine
User / group quota management
Network Access Control
Disk installation techniques Management
Backup management
Backup from a computer to a network repository schedule
Local backup schedule
Remote backup schedule
Apple Time Machine Support Functions
Backup USB backup device
Remote access to documents:
Device Management:
In Internet Explorer 7 +, Mozilla Firexof 3 + or Apple Safari 4 +
Easy Search program
E-mail messages. email or SMS
System / FTP log
Yahoo! Widget
General access to the file:
The maximum amount of user accounts: 256
The maximum number of groups: 32
Maximum total number of folders (without downloads): 128
The maximum number of simultaneous connections: 64 (Samba) / 10 (FTP)
Applications (by default):
Uploading via FTP / HTTP
Remote / local backup
Sending via P2P
Web File Server
Additional packages (by default):
SqueezeCenter
Blog
Audio Streamer
AjaXplorer
Photo Center
Power management:
Energy-saving mode
Auto power upgrade
Power shutdown on schedule
The fan speed control
D-Link Green Ethernet

Physical parameters
Meals:
External power supply
12 V DC, 4 A
Power consumption:
Normal: 4.21 W
Sleep mode: 10.45 W
Working temperature:
Storage temperature:
Working humidity:
5% to 90% without condensation
Dimensions:
Size:
Supported languages ​​are:
Samba: Unicode
FTP client / iTunes Server: Unicode, Korean, Turkish, Croatian, Cyrillic (Kyrgyz Republic), Czech, Danish, Dutch, German, English, Finnish, French, Greek, Hungarian, Italian, Norwegian, Polish, Portuguese, Romanian, Russian, Simplified Chinese, Slovenian, Spanish, Swedish, Chinese tradininė Jewish
1 unit sold without hard drives. RAID 1 operation requires 2 SATA drives. For the RAID 1 function correctly, we offer the use of a single manufacturer SATA drives. Formatted disk size RAID 1 performance depends on the smaller capacity hard drive. It may not work with older generation SATA drives. Drives, tested and working with the Share Center Pulse, see the D-Link site technical support section.
2 The maximum disk capacity in the future may vary depending on changes in SATA technology.