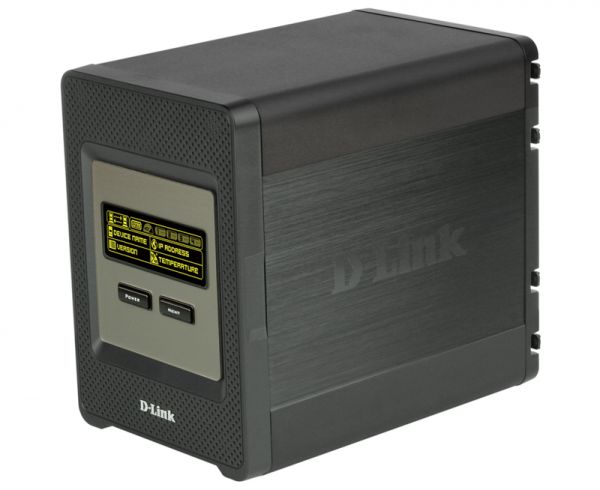 DNS-346
EOL EOS
Network drive ShareCenter Duo with 4 drive bays
Nereden Alınır
Tanımlama
Unified Storage ISCSI / NAS - high speed data transmission and ease of use
Network drive D-Link ShareCenter Duo (DNS-346) with 4 drive bays combines the technology of NAS and iSCSi. This combined system allows you to create separate volumes and NAS iSCSi. ISCSi interface provides high-speed data transmission in addition to this, the device supports NAS, for example, providing access FTP-protocol. If the device supports only the technology iSCSi, NAS functions are unavailable because iSCSi does not work with files and data blocks. Disk drive ShareCenter Duo with 4 drive bays allows the effective use of technology iSCSi / NAS.
Protection performance and reliability
In the DNS-346 are available 5 different operating modes of the hard drive (Standard, JBOD, RAID 0, RAID 1 and RAID 5), allowing users to select the desired configuration. In Standard mode uses two separate hard disk. JBOD mode combines both drives into one for maximum volume. RAID 0 provides high performance by splitting read and write between the two hard drives.When using RAID 1, the contents of one hard drive is duplicated on the other, providing maximum reliability. If a hard drive fails, the other continues to function fully until the disk out of service, will not be replaced. Then, a new hard drive to re-duplicated, allowing DNS-346 to return to full protection. When using RAID 5 data is distributed on three or more disks to provide efficient and reliable data storage.
Genel Özellikler
Fiziksel Özellikler
Standards
• IEEE 802.3
• IEEE 802.3ab
• 802.3u
• TCP / IP
• CIFS / SMB
• iSCSI
• DHCP server / client
• DDNS
• NTP
• FTP
• HTTP / HTTPS
• Jumbo-frame
• USB 2.0
• SNMP
• Remote Backup
• Snapshot Volume
• NFS (Networking File System)
• VLAN Tag
• Active Directory Support for Windows Server 2003
Supported types of hard drives *
• SATA
• 3,5-inch internal
Ports
• 1-Port 10/100/1000 Gigabit Ethernet
• 1 USB-port
• Power
Disk management
• Multiple hard drive configurations: RAID 0/1/10/5/5 + spare, JBOD, Standard
• SMART / Scan Disk
• Quota Management User / Group
Device control
• In Internet Explorer v6 or later, or other Java-enabled browser
• Easy Search Utility Search
• UPS Monitoring
• Notification of the danger by E-mail
• Power Management
File Sharing
• Max. number of accounts: 64
• Max. the number of groups: 10
• Max. the number of public folders, 32
• Max. the number of connections: 64 (Samba) / 10 (FTP)
Support for the file name in several languages
• Samba: Unicode
• FTP-Client: Unicode, Croatian, Cyrillic (Kyrgyz Republic), Czech, Danish, Dutch, English, Finnish, French, German, Greek, Hungarian, Italian, Japanese, Korean, Norwegian, Polish, Portuguese, Romanian, Russian, Simplified Chinese, Slovenian, Spanish, Swedish, Traditional Chinese, Turkish

Fiziksel Özellikler
Nutrition
External power adapter 19V DC 4.74 A
Power consumption
• Normal: 45.33 W
• «Sleep" mode: 26.42 W
Operating temperature
From 0 º to 55 º C
Storage temperature
From -20 ˚ to 70 ˚ C
Humidity
From 5% to 90%, non-condensing
Measurements
• Out of package: 128 x 200 x 178 mm
• Packaged: 270 x 320 x 260 mm
Weight
• Out of package: 2.7 kg
• In the box: 4.5 kg
Certifications
• CE
• C-Tick
• FCC