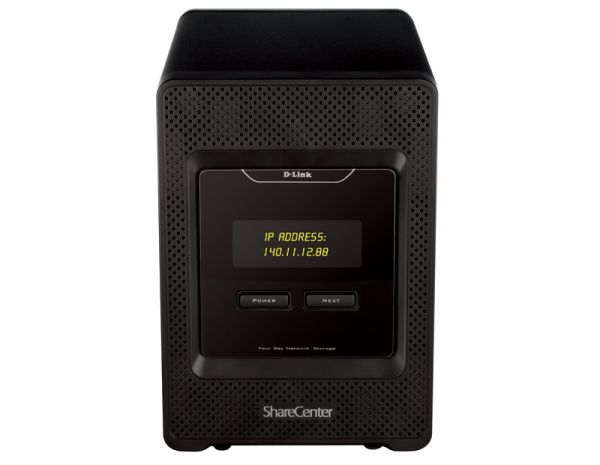 DNS-345
EOL EOS
ShareCenter network drive with 4 drive bays, 2-port 10/100/1000 Gigabit Ethernet + 1-port USB 2.0
Nereden Alınır
Tanımlama
Protecting access to shared files
The use of network drives DNS-345 ShareCenter ™ with four drive bays lets you share documents, files, and media content on the network. The device is an ideal solution for installing the server in the office, as it provides the flexibility to expand the capacity of the storage device by adding up to four internal drives SATA. Thanks to the built-in FTP-server, two possible remote file access, which allows company employees to access work files over the Internet from outside the office. Files and folders stored on the hard drives may have different access rights on a local network or over the Internet for different users and groups.
Built-in media server for streaming media content
Sharecenter ™ provides transmission of streaming media files, using different methods. With the built-in Media Server UPnP AV can stream digital media content to compatible media players such as the Sony PlayStation 3, Xbox 360 or any product D-Link MediaLounge. In addition, you can use the integrated iTunes-server for streaming and playback of media files through iTunes.
The increase in the use of functional software modules
With a variety of different software modules can extend the functionality of NAS. Using P2P application users are able to gain access to unlimited collection of free content on the Internet. To stream music collections from the NAS over the Internet, you can use the application SqueezeCenter and Audio Streamer. Gallery and Blog modules allow to show their photos or blogs on the Internet, and AjaXplorer provides user friendly graphical interface for remote access to files over the Internet. In the future, will be available to new software modules.
Protection performance and reliability
Sharecenter ™ supports seven different hard drive configurations: Standard, JBOD, and RAID 0/1/5/5 + Hot Spare/10. In Standard mode creates four separate hard disks, while JBOD combines the drives together for maximum use of space. RAID 0/10 for maximum performance, while the modes of RAID 1/5/5 + Hot Spare provide a variety of ways to protect your data from loss.
Genel Özellikler
Fiziksel Özellikler
Standards
• IEEE 802.3
• IEEE 802.3ab
• IEEE 802.3u
• IEEE 802.3ad
• TCP / IP
• CIFS / SMB
• AFP
• NFS
• UPnP AV
• Bonjour
• DDNS
• NTP
• FTP over SSL / TLS, FXP
• HTTP / HTTPS
• WebDAV
• USB 2.0
• DHCP-Client
• PnP-X
• LLTD
Device Interfaces
• Four bays for 3.5 "hard drives SATA I / II,
• Support for hard drives up to 3TB
• Two ports are 10/100/1000 Gigabit Ethernet
• USB 2.0 port
Indicators
• LAN (port-LAN)
• Ethernet (on port Ethernet)
Display
OLED-display 128 x 32
Disk management
• Multiple hard drive configurations: RAID 0/1/5/10/5 + Hot Spare, JBOD, Standard
• Migration of RAID: from Standard to RAID 1/5 from RAID 1 to RAID 5
• Format hard drives
o Internal: EXT4
o External: FAT16/32, NTFS
• Scan Disk
• SMART
• Volume-based Encryption AES
• Move the drive
• Moving the RAID
Account Management
• Support for Windows Active Directory service in Windows Server 2003/2008
• User Account Control
• Account Management teams
• Quota Management User / Group
• Network Access Control
• Management of mounting disk images
• Creating a user group
Manage downloads
• Schedule downloads on HTTP / FTP
• Peer to Peer (P2P), aMule
Backup Management
• Schedule a backup from PC to NAS
• Schedule a local backup
• Schedule remote backup (Rsync, Remote Snapshot)
• Supports Apple Time Machine
• Backup USB-devices
• Backup Storage Cloud (Amazon S3)
Device control
• Web-interface with support for Internet Explorer 7, Firefox 3, Safari 4, Chrome 3, Opera 10 or higher
• Easy Search Utility
• Notification by e-mail
• Notification by SMS
• The journal system / FTP
• Yahoo! Widget
• SNMPv2
• Control of resources
• Plug-ins
Power Management
• Power Save Mode
• Automatic power recovery
• Power on / off schedule
• Fan speed control
• D-Link Green Ethernet
• Automatic unloading system at a low level for the unit
• Network UPS
Remote access to files
• File Web-server
• FTP-server
• WebDAV
• AjaXplorer
File Sharing
• Max. User Account: 512 (without ADS) / 800 (ADS)
• Max. the number of groups: 64 (without ADS) / 200 (ADS)
• Max. the number of public folders: 128 (no P2P)
• Max. The number of simultaneous connections: 64 (Samba) / 10 (FTP)

Streaming Media 2
• Complies with DLNA
• Support for PS3/Xbox 360
• iTunes-server
Language Support
• Samba: Unicode
• FTP-server/iTunes-server: Unicode, Croatian, Cyrillic (Kyrgyz Republic), Czech, Danish, Dutch, English, Finnish, French, German, Greek, Hebrew, Hungarian, Italian, Korean, Norwegian, Polish, Portuguese, Romanian , Russian, Simplified Chinese, Slovenian, Spanish, Swedish, Traditional Chinese, Turkish

Fiziksel Özellikler
Supply
External power supply: 19 V DC / 4.74 A
Max. Power consumption
• Normal mode: 53 W
• Sleep mode: 13.5 W
Operating temperature
From 0 to 40 C
Storage temperature
-20 To 70 C
Operating Humidity
From 5% to 90% (non-condensing)
Measurements
• Out of package: 128 x 200 x 178 mm
• Packaged: 242 x 278 x 255 mm
Weight
• Out of package: 2.7 kg
• Packaged: 4.02 kg
Certifications
• CE
• FCC
• IC
• C-Tick
• DLNA
1 Hard disks are not included. Internal SATA drive is required to store and share files. This device may not work with older generations drive SATA. For a list of compatible drives SATA, proven to work with the DNS-345, visit the Web-site technical support for D-Link.
2 D-Link can not guarantee full compatibility or accurate playback with all codecs. Playback capability depends on the codec media player support UPnP AV.