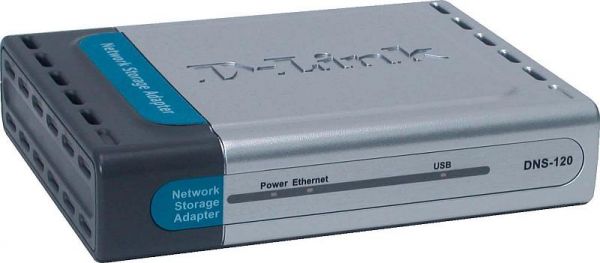 Tanımlama
Easily share files on the network! The D-Link Express EtherNetwork® DNS-120 Network Storage Adapter connects USB drives* to the network, and provides authorized users access to their files. You can connect up to two standalone USB hard drives or flash drives and instantly have access to all stored files.
The DNS-120 Network Storage Adapter can be configured so that your USB 1.1 or USB 2.0 drives are accessible over the Internet, making it convenient to access your files, even when youa€™re away.
With its built-in backup function, schedule full or incremental backups of important information on the network. You can set up PC-to-drive or drive-to-drive backups. Either way, an extra copy of your data remains on the USB drive connected to the DNS-120 and ready to take on the road at anytime.
The DNS-120 Network Storage Adapter does not require you to reboot the system when adding USB drives to the network, thus eliminating downtime. You can also prevent any data loss by safely removing the USB drives using the Disconnect button on the back of the DNS-120.
Through plug and play setup, installing the DNS-120 Network Storage Adapter into your network has never been easier. Simply connect the DNS-120 to a Fast Ethernet port on your network router or switch, and plug in USB hard drives or flash drives.
Additional setup options can be configured using the built-in Web-based admin utility including firmware upgrade, user account management, folder management, scheduled downloads, and DHCP/ manual network settings. Using the Easy Search utility, discover all DNS-120 units on the network and easily create shortcuts to their USB drives.
The DNS-120 Network Storage Adapter is a fast, simple, and cost-effective way to connect and share storage on the network.
* USB drives sold separately.
** Unless additional precautions are taken, use of an FTP Server to access files over the Internet does not provide for secure or encrypted transmissions. It is recommended that the end-user utilize a Virtual Private Network (VPN) to establish a secure FTP session. Failure to properly disconnect USB drive may result in data loss and/or damage to the device.
** The supported file system type FAT16, FAT32, NTFS(Read Only support for NTFS USB drives, with latest firmware 1.17)
** DNS-120 does not support Unicode (chinese, korean, japanese, etc.) display.
Genel Özellikler

Fiziksel Özellikler