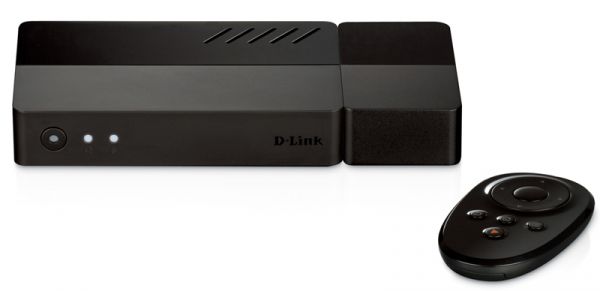 Tanımlama
Working with multimedia content
The multimedia platform based on Android D-Link DIB-360 - is a media player that connects to your TV for playback on his big-screen digital media content 1 , stored on a computer, USB-drive or network. With an intuitive interface, remote control and customizable media application that is provided by providers, this device allows you to enjoy watching videos and listening to your favorite music. Multimedia platform based on Android can play video 1 , music and photos from a folder or a shared drive on the network, or USB-drive connected to the DIB-360. This device is also equipped with a slot for SD, which allows to insert the SD card and instantly start watching a slide show of photos on the TV.
A wide range of applications
Android OS multimedia platform DIB-360 allows Internet service providers to install and provide their subscribers with customized media applications. In addition, DIB-360 contains a number of built-in applications, which further expands the possibilities of working with multimedia content and social networks. The platform supports the application AUPEO! for personal listening to Internet radio. CloudGallery application allows the user to gain access to your photos on Facebook and Picasa, making it convenient to download and view photos.
Ease of installation and ease of use 
DIB-360 supports wireless standard, 802.11n, which simplifies installation media player and allows you to reduce the number of cables used to connect. Simply connect the power adapter, and then connect the DIB-360 to your television via HDMI. After a quick setup wireless network, taking the remote control, you can start watching movies from the Internet or from a library of digital media content.
Genel Özellikler
Fiziksel Özellikler
Scope of delivery
• The multimedia platform based on Android
• Remote control with battery
• Power Adapter, 5 V / 2 A
• Installation Guide
• Warranty Card
Language Support
• English 
• Spanish
• Russian
• Traditional Chinese
• Simplified Chinese
Network Protocol Support
• IPv4, ARP, TCP, UDP, ICMP
• IPv6
• DHCP-Client
• DNS-client
• HTTP
• Samba-client
• DLNA
Technology android ™
• Android ™ 2.3
• Applications Android ™ 2
Device Interfaces
• HDMI 1.3a port with HDCP
• Port MDI / MDIX 10/100Base-TX
• 802.11n/g/b wireless network with encryption WPA2/WPA/WEP
• 2 USB 2.0 ports
• Optical interface for digital audio (SP / DIF)
Support for memory cards
SD / SDHC
Image Resolution
Up to 1080p Full HD
Indicators
• System Status
• The wireless network
• Ethernet

Fiziksel Özellikler
Nutrition
Power adapter, 5 V / 2 A
Measurements
• Device: 116 x 81,7 x 21,5 mm
• Remote control: 89 x 55 x 13 mm
Weight
96 g
Operating temperature
From 0 to 40 C
Storage temperature
-20 To 65 C
Operating Humidity
From 10% to 95% (non-condensing)
Humidity
From 5% to 95% (non-condensing)
Certifications
• HDMI with HDCP
• DLNA
• Wi-Fi Certified
• Energy Star Compliant
• FCC
1 Applications must be installed before users will be able to play video files.
2 are available, depending on the Internet service provider.