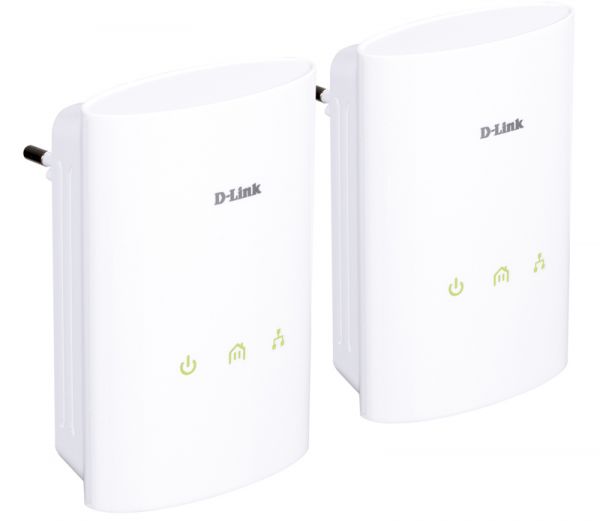 DHP-307AV
EOL EOS
Set of 2 PowerLine AV Ethernet-Adapter DHP-306AV
Nereden Alınır
Tanımlama
Data transmission electrical wire
D-Link Network Adapter DHP-307AV Powerline is compatible with the HomePlug AV standard equipment and allows the use of existing electricity grid home network or the creation of a wireless network to extend the operating range. 1 The Network Adapter to the electrical outlet is obtained access to a variety of digital devices - game consoles , print servers, computers and network data storage.
The ideal solution for appliqué requiring certain Bandwidth
DHP-307AV provides data transfer 200 Mbps 2 speed. Therefore, this device is the ideal solution for appliqué, requiring a certain bandwidth capacity, ie, streaming HD video viewing, VoIP telephony, real-time games. In addition, this adapter carries the incoming web traffic prioritization feature, thus ensuring the smooth operation of multi-media applications. The unit provides high bandwidth and allows for generating digital home consumers to use existing electrical wires high-quality connection available.
Convenient installation and protection
DHP-307AV plugs directly into the wall socket, so its use does not need to purchase additional cables. You can expand the existing home network boundaries, where to hook up multiple devices to the most remote points of the home. If you want additional connection - connect the adapter switch or wireless access point. The encryption key available by clicking a button.Data transfer and network security protection against unauthorized access to ensure the adapter supports 128-bit AES encryption. DHP-307AV supports Plug-and-Play, making it ideal for home networking.
Energy-saving function
This device supports energy saving mode and the EU Energy Using Product (EuP) Directive. If a certain period of time the facility does not transmit or receiving data, it automatically switches to standby mode, saving energy.
1 Plug-in sockets and electrical lines must be in the system. Some factors, such as the installation of wiring may affect the unit's efficiency. For a network to connect additional devices, you will need to purchase additional D-Link PowerLine AV adapters.Creation of a network will need at least two of these adapters. Device to the cord, having a network filter, may adversely affect the device efficiency. The device works best if it connects directly into the electrical outlet.
2 Maximum bandwidth is calculated based on theoretical transmission PHY rate. The actual bandwidth may be different. It affects the operation of the network conditions and environmental factors, such as the volume of network traffic, network performance data and so on. Product performance may be reduced, and devices such as a vacuum cleaner or a hair dryer. The network adapter can interfere with lighting systems that have a light switch or the touch on / off switch, short wave radio communications, or other powerline devices that are incompatible with HomePlug AV standard work.
Genel Özellikler
Fiziksel Özellikler
Standards:
IEEE 802.3
IEEE 802.3u
HomePlug AV
Ethernet interface with the user:
1 10/100BASE-TX Ethernet port with auto cable type identification of MDI / MDIX
RJ-45
Powerline interface with the user:
Plug type: Depends on the country
Powerline modulation scheme:
Powerline frequency range:
Transmission speed:
Power Line: 200 Mbps (physical play)
Ethernet: 10/100 Mbps (auto-rate)
QoS:
Built-in QoS feature with traffic prioritization
Security:
Minimum system requirements (program start):
A computer with a 200 MHz processor
64 MB of memory
Windows 7, Vista, XP SP2 or 2000 SP4
Ethernet (100 Mbps)
Indicators:

Physical parameters
Meals:
Energy savings:
Power-saving mode
Complies with the energy-efficient equipment directive
Dimensions:
Size:
Working temperature:
Working humidity:
10% to 95% without condensation
Electromagnetic compatibility:
FCC Part 15 Class B
CE EMC Class B
Security: