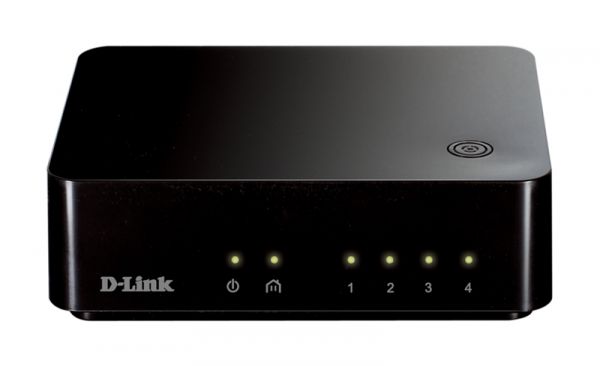 Tanımlama
Data transmission on the wiring
PowerLine AV Switch DHP-540 with 4 Gigabit Ethernet ports allows you to use existing electrical wiring to create a home network or extend the range of your wireless network1. The switch is included in the wall socket allows you to connect multiple devices to the network by: digital media devices, game consoles, print servers, computers and network storage devices. DHP-540 complies with IEEE 1901 and HomePlug AV, and can be used with devices PowerLine earlier.
The ideal solution for applications that require high bandwidth
DHP-540 provides data transfer rates of up to 500 Mbit / s 2 , which makes the device an ideal solution for applications that require high bandwidth, providing streaming HD-video, VoIP-telephony and online games without delay. In addition, the switch supports the prioritization of Internet traffic, providing the performance of multimedia applications while viewing Web-pages and downloads. The device provides wide bandwidth, providing users with selecting a digital home technologies, the ability to use existing wiring for streaming high quality video.
Easy installation and safety
Extend the range of your home network by connecting multiple devices from the most distant points of the house, or create additional connection by connecting a switch or wireless access point to the DHP-540. The adapter supports 128-bit AES data encryption to protect the network from unauthorized connection to the line. With simple installation Plug and Play, DHP-540 is the ideal solution to create a home network.
Power Saving Function
DHP-540 supports the conservation of energy, including standby mode automatically if, within a certain period of time is not being transmitted or received, or no device is connected to the ports. This may continue for more than 50% of the energy.
Genel Özellikler
Fiziksel Özellikler
Standards
• IEEE 802.3
• IEEE 802.3h
• IEEE 1901
• HomePlug AV
PowerLine Interface
Power connector (depending on country)
Ethernet Interface
• 4-port 10/100/1000BASE-T Ethernet with auto-crossover MDI / MDIX
• RJ-45 connector
Frequency range PowerLine
From 2 MHz to 70 MHz
Data rate 2
• PowerLine: up to 500 Mbit / s (the speed supported by the chipset)
• Ethernet: 10/100/1000 Mbit / s (automatic speed change)
QoS
Built-in QoS traffic prioritization
Minimum System Requirements
(For computer utilities)
• Windows 7/Vista/XP SP3
• Ethernet interface
Indicators
• Power
• PowerLine
• Ethernet

Fiziksel Özellikler
Power Input
From 100 to 240 VAC, 50/60 Hz
Power Save
Support for the power save mode
Measurements
132 x 103 x 42 mm
Weight
250 grams
Operating temperature
From 0 ° to 40 ° C.
Operating Humidity
10 to 90% (non-condensing)
Certifications
• FCC Part 15 Class B
• CE EMC Class B
• CE LVD
• UL
1 power outlets and electrical wiring must be part of the same electrical system. Some conditions, such as laying electrical wiring, can affect the performance of the product. To add new devices to the network requires additional adapters D-Link PowerLine AV.To create a network requires at least two adapters D-Link PowerLine AV. Connecting this product to a power strip with a surge protector may adversely affect the performance of the product. For best results, plug the adapter directly into a wall outlet.

2 Maximum throughput based on theoretical data rate chipset. Actual data throughput will vary. The conditions under which the network operates, as well as environmental factors, including volume of network traffic, and network overhead, lower actual throughput. Interference from devices that produce electrical noise, such as vacuum cleaners and hair dryers can reduce the performance of the product. This product may cause interference and prevent the operation of such devices as lighting with dimmer switch or a touch-button on / off switch, short wave radio communication devices or other devices PowerLine, do not meet the standard HomePlug and IEEE 1901.