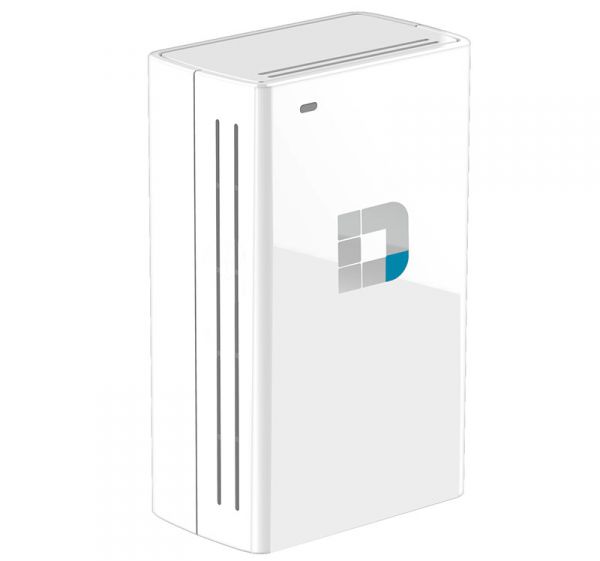 Tanımlama
Wireless Dual-Band Repeater AC750 DAP-1520 is a portable device that increases the range of the existing network. The device can be placed anywhere in your home. Compact, fits in the palm repeater DAP-1520 has a high capacity and supports wireless networking speeds of up to 300 Mbit / s in the 2.4 GHz band and up to 433 Mbit / s in the range of 5GHz,
The coverage of a wireless network
Wireless Dual-Band Repeater AC750 DAP-1520 allows you to extend wireless coverage 802.11ac. Operation in 5 GHz helps reduce noise emanating from a nearby transmitter and the use of the 2.4 GHz band provides backwards compatibility with older wireless devices on the network, allowing high-speed and reliable wireless connection.
Easy to install and use
Installing repeater DAP-1520 is not difficult. You can use the application QRS Mobile, mobile devices supported on the platform iOS or Android, to install a repeater without using a computer. You can configure the one-touch WPS button on the DAP-1520 and the router or access point coverage which should be increased, and repeater DAP-1520 will be adjusted automatically. You can also use the Setup Wizard, which allows to configure a wireless manner via a PC or mobile device.
Compact, user-friendly design
Compact device DAP-1520 is ideal for use at home or in a small office, because it does not take up much space and is ready for operation immediately after connection. His small wall close coupled design is ideal for connecting to a power outlet without obscuring other outlet is located near, and eliminates the need to use the power cord. Neat appearance of the device allowing it to fit into the interior of the house or office.
Genel Özellikler
Fiziksel Özellikler
Device Interfaces
• 802.11ac/n/g/b/a
• Кнопка WPS
• Reset
Indicators
Status/WPS
Standards
• IEEE 802.11ac (draft)
• IEEE 802.11n
• IEEE 802.11g
• IEEE 802.11b
• IEEE 802.11a
Antenna
Two internal antennas
Connector Type
Depends on the region
Speed ​​Wireless
• 802.11a: 6, 9, 12, 18, 24, 36, 48, 54 Мбит / с
• 802.11b: 1, 2, 5,5, 11 Мбит / с
• 802.11g: 6, 9, 12, 18, 24, 36, 48, 54 Мбит / с
• 802.11n: from 6.5 up to 300 Mbit / s (MCS0 - MCS15) in the range of 2.4 GGC,
from 6.5 up to 150 Mbit / s (MCS0 - MCS7) in the range 5 GGC
• 802.11ac:
| | | |
| --- | --- | --- |
| MCS | GI=800ns | GI=400ns |
| 0 | 29,3 | 32,5 |
| 1 | 58,5 | 65 |
| 2 | 87,8 | 97,5 |
| 3 | 117 | 130 |
| 4 | 175,5 | 195 |
| 5 | 234 | 260 |
| 6 | 263,3 | 292,5 |
| 7 | 292,5 | 325 |
| 8 | 351 | 390 |
| 9 | 390 | 433,3 |
Unit dimensions: Mbit / s
Transmitter output power *
• IEEE 802.11a:
19 dBm at 6-36 Mbit / s
16 dBm at 48-54 Mbit / s
• IEEE 802.11b:
16 dBm при 1, 2, 5,5, 11 Мбит/с
• IEEE 802.11g:
19 dBm at 6-36 Mbit / s
16 dBm at 48-54 Mbit / s
• IEEE 802.11n:
2.4 GHz
19 dBm при MCS0-5 и MCS8-12
16 dBm при MCS6 и MCS14-7-15
5 GHz
19 dBm при MCS0-5
16 dBm при MCS6-7
• IEEE 802.11ac:
19 dBm при MCS0-6
16 dBm при MCS7
14 dBm при MCS8
13 dBm при MCS9
Receiver Sensitivity
• IEEE 802.11a:
-82 DBm at 6 Mbit / s
-81 DBm at 9 Mbit / s
-79 DBm at 12 Mbit / s
-77 DBm at 18 Mbit / s
-74 DBm at 24 Mbit / s
-70 DBm at 36 Mbit / s
-66 DBm at 48 Mbit / s
-65 DBm at 54 Mbit / s
• IEEE 802.11b:
-89 DBm at 2 Mbit / s
-83 DBm at 11 Mbit / s
• IEEE 802.11g:
-82 DBm at 6 Mbit / s
-81 DBm at 9 Mbit / s
-79 DBm at 12 Mbit / s
-77 DBm at 18 Mbit / s
-74 DBm at 24 Mbit / s
-70 DBm at 36 Mbit / s
-66 DBm at 48 Mbit / s
-65 DBm at 54 Mbit / s
• IEEE 802.11n:
2,4 ГГц/HT-20
-82 dBm при MCS0/8
-79 dBm при MCS1/9
-76 dBm при MCS2/10
-74 dBm при MCS3/11
-70 dBm при MCS4/12
-66 dBm при MCS5/13
-65 dBm при MCS6/14
-64 dBm при MCS7/15
2,4 ГГц/HT-40
-79 dBm при MCS0/8
-76 dBm при MCS1/9
-74 dBm при MCS2/10
-71 dBm при MCS3/11
-67 dBm при MCS4/12
-63 dBm при MCS5/13
-62 dBm при MCS6/14
-61 dBm при MCS7/15
5 ГГц/HT-20
-82 dBm при MCS0
-79 dBm при MCS1
-77 dBm при MCS2
-74 dBm при MCS3
-70 dBm при MCS4
-66 dBm при MCS5
-65 dBm при MCS6
-64 dBm при MCS7
5 ГГц/HT-40
-79 dBm при MCS0
-76 dBm при MCS1
-74 dBm при MCS2
-71 dBm при MCS3
-67 dBm при MCS4
-63 dBm при MCS5
-62 dBm при MCS6
-61 dBm при MCS7
• IEEE 802.11ac:
5 ГГц/HT-80
-76 dBm при MCS0
-73 dBm при MCS1
-71 dBm при MCS2
-68 dBm при MCS3
-64 dBm при MCS4
-60 dBm при MCS5
-59 dBm при MCS6
-58 dBm при MCS7
-53 dBm при MCS8
-51 dBm при MCS9
5 ГГц/VHT-40
-56 dBm при MCS8
-54 dBm при MCS9
5 ГГц/VHT-20
-82 dBm при MCS0
-79 dBm при MCS1
-77 dBm при MCS2
-74 dBm при MCS3
-70 dBm при MCS4
-66 dBm при MCS5
-65 dBm при MCS6
-64 dBm при MCS7
-59 dBm при MCS8
-57 dBm при MCS9
Functionality
Security
• Wi-Fi Protected Access (WPA/WPA2)
• 64/128-bit WEP
• WPS (PBC)
Advanced Features
• D-Link One-Touch Extender Setup
Network control
• Support for QRS Mobile App iPhone, iPad, iPod Touch and Android mobile devices
• Web-interface

Physical Properties
Measurements
92 x 58 x 34.2 мм
Weight
104 g
Power Input
100-240 VAC, 50/60 Hz
Max. power consumption
6.25 Tu
Temperature
• Operating: 0 to 40 C
• Power: -20 to 65 C
Humidity
• Rabochaya: From 10% to 90% (without condensate)
• Power: From 5% to 95% (without condensate)
Certificates
• FCC
• IC
• CE
• C-Tick
• EMI/EMC
• UL
• Wi-Fi Certified