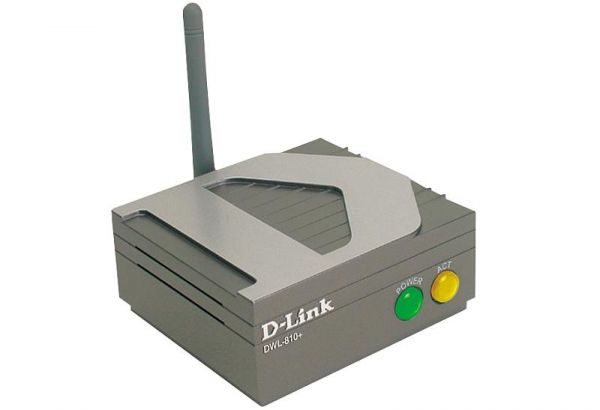 DWL-810+
EOL EOS
Enhanced 2.4GHz (802.11b) Ethernet-to-Wireless Bridge
Nereden Alınır
Tanımlama
D-Link announces another great addition to the D-Link AirPlus™ series of high-speed wireless networking products capable of transfer rates up to 22Mbps—the DWL-810+ Ethernet-to-Wireless Bridge.
The D-Link AirPlus DWL-810+ converts virtually any Ethernet device—a set-top box, game console, printer, a laptop or a desktop computer—to a wireless network device. Now Ethernet-enabled printers can be shared in the home or office without stringing cable through walls or ceilings. And gamers can join multiple-player video games with others on the Internet using a high-speed broadband connection. The DWL-810+ features advanced silicon chip design from Texas Instruments, utilizing their patented Digital Signal Processing™ technology.
With its Web-based configuration and simple setup wizard, the DWL-810+ is easy to install, enabling users to quickly connect to an existing D-Link Air, AirPlus, or other 802.11b-compliant wireless
network. And because it's a D-Link AirPlus product, it transfers data much faster than standard 802.11b devices.
The DWL-810+ also features 256-bit WEP encryption for a higher level of security for your communication. Use this inexpensive, compact bridge to expand the number of devices and peripherals available on your wireless network.
Genel Özellikler
Standards
• IEEE 802.11
• IEEE 802.11b
• IEEE 802.3
• IEEE 802.3u

Port
10/100 Mbps Fast Ethernet

Auto MDIX
Data Rates

With Automatic Fallback
• 22Mbps • 11Mbps
• 5.5Mbps • 2Mbps
• 1Mbps

Encryption
64-,128-, 256-bit RC4

Media Access Control
CSMA/CA with ACK

Frequency Range
2.4GHz to 2.4385GHz

Operating Range
Indoors: Up to 328 ft (100m)*
Outdoors: Up to 1,312 ft (400m)

Modulation Technology
• PBCC - Packet Binary
Convolutional Coding
• Direct Sequence Spread
Spectrum (DSSS)
•11-chip Barker sequence

Modulation Techniques
• Barker (1Mbps/0db)
• Barker (2Mbps/3db)
• CCK (5.5 Mbps/5.5db)
• PBCC (5.5Mbps/1.5db)
• CCK (11Mbps/8.5db)
• PBCC (11Mbps/4.5db)
• PBCC (22Mbps/8.5db)

Power Input
External Power Supply
DC 5V, 2.5A

LEDs
• Power (Green)
• WLAN (Yellow)

Transmitter Output Power
15dBm ± 2dB

External Antenna Type
Detachable 1.0dB gain with reverse
SMA connector

Over-Driving Levels
Tolerates up to +17dBm at the antenna

Device Management
Web-Based – Internet Explorer v6 or later; Netscape Navigator v6 or later; or other Java-enabled browsers.

Fiziksel Özellikler
Temperature
Operating: 32°F to 131°F (0°C to 55°C)
Storing: 4°F to 167°F (-20°C to 75°C)

Humidity
95% maximum (non-condensing)

Safety & Emissions
• FCC
• UL

Dimensions
• L = 3.5 inches (90mm)
• W = 3.2 inches (82mm)
• H = 1.6 inches (40mm)

Weight
0.34 lbs (153g)

* Environmental factors may adversely affect wireless signal range.
Sipariş Bilgisi
DWL-810+ Enhanced 2.4GHz (802.11b) Ethernet-to-Wireless Bridge