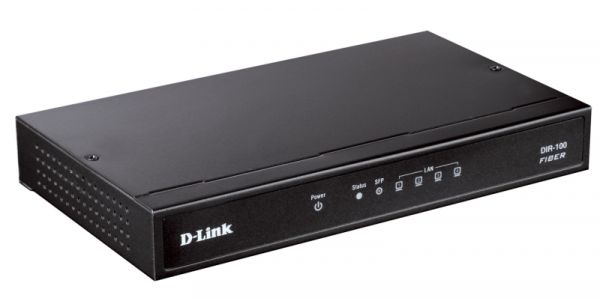 DIR-100/FE
EOL EOS
Broadband Router Ethernet-c 4-port 10/100 Mbit / s, 1 SFP port 10/100 Mbit / s
Nereden Alınır
Tanımlama
High performance
Broadband Router D-Link DIR-100 is designed for group of users share a broadband Internet connection through a DSL or cable modem. Easy to install and operate, this router is ideal for novice users creating their first networks at home and in small offices.
Quality of Service (QoS)
DIR-100 provides prioritized transmission and reception of VoIP and online traffic to / from the Internet, allowing a group of users a reliable network connection with no traffic delays. QoS support provides broadband access for applications such as Internet telephony, multimedia and games on the Internet.
The high level of network security
Router DIR-100 is equipped with a firewall to protect the computers on the network from DOS attacks and virus attacks.With packet filtering device is based access control ports and MAC / IP-addresses of the source / destination. By using the port forwarding the router can be configured to allow separate FTP, and game servers to share the same Internet-visible IP-address, and at the same time, servers and workstations will remain protected from hackers. Users can set up a home or office Web-site by configuring any of the built-in LAN ports to work as a port DMZ. The parental control feature allows parents and network administrators to filter out unwanted URL-addresses of Web-sites, block domains and control the time of the Internet via a schedule.
Genel Özellikler
Fiziksel Özellikler
The WAN interface
• 1-Port Small Form-factor Pluggable (SFP) optical connector for 10/100Mbps
• Support for DSL or cable modem connection
• Supports "Always-on" (bridged) and PPPoE for PPTP-connection on demand
LAN Interfaces
• 4-port 10/100 BASE-TX Ethernet
• Supports auto polarity MDI / MDIX
• flow control support 802.3x (full duplex) and the method of back pressure (half duplex)
Support for VPN
• PPTP pass-through
• IPSec pass-through
• L2TP pass-through
Functions of the Internet gateway
• Network Address Translation (NAT)
• DHCP-server (for automatic assignment of IP-addresses)
Managing User Access
• MAC-address filtering
• Filtering IP-addresses
• Scheduling
Firewall
• NAT (Network Address Translation) with VPN pass-through
• SPI (Stateful Packet Inspection)
Quality of service
• Transmit / Receive prioritized VoIP-traffic and streaming media
• Multicast stream IGMP (Internet Group Management Protocol)
Configuration and Management
• Quick Installation Wizard
• Remote management via Telnet
• Web-interface using Internet Explorer v.6, Netscape Navigator v.7 or other Java-enabled browsers
• Dynamic Domain Name System (DDNS)
• Compliance Technology Universal Plug and Play (UPnP)
• Support for Network Time Protocol (NTP)
Software update
The HTTP (Web-browser)
Diagnostic Lights
• Power / Status
• SFP (Link / Activity)
• LAN 1, 2, 3, 4 (Link / Activity)

Fiziksel Özellikler
Power Input
5VDC 2.5A
Measurements
197 x 114,2 x 28 mm
Weight
515.5 g
Operating temperature
From 0 to 40 C
Storage temperature
-25 To 55 C
Operating Humidity
From 5% to 95% non-condensing
Humidity
From 5% to 95% non-condensing
Certificate of EMI
CE
The security certificate
CE